Activities at St. Paul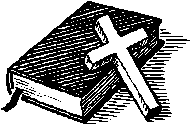 Rummage Sale
Saturday, April 17 8 a.m. - 2 p.m.
Bedding, Kitchen Items, Seasonal Decor, Books & More
60+ tables
Shown by appointment:
Thursday 3 - 7 p.m.
and
Friday 9 a.m. - 1 p.m.
Call Karen: 586-549-4613
Maybe the most difficult part of petitionary prayer, the prayer of asking, is asking the right question.
Childishness in prayer is chiefly evidenced in an overwhelming desire to beg things from God,
and corresponding failure to desire above all else the grace of God.