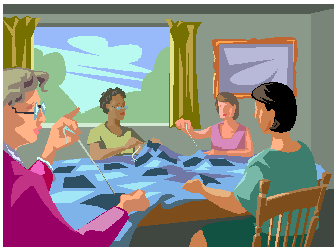 Women's Ministries
Women Serving Christ (WSC) provides opportunities for service and fellowship with the women of St. Paul.
Upcoming Events:
Potluck / Planning Meeting - Thursday, January 24, 2019 at 11:00 a.m.
We start with a potluck lunch and then finish with our planning of activities from now through the summer.
All women of St. Paul are welcome to join us for lunch. If you don't want to stay for the planning meeting, you can certainly leave after lunch.
No one is ever coerced onto committees or activities but sometimes your ideas can be very valuable. We hope you will consider joining us.
Women's Bible Study - Tuesday, February 12, 2019 at 11:00 a.m.
We will gather for a short Bible study from the latest Lutheran Women's Quarterly. We will study "Lord, I Can't Handle This!" (page 22).
Bring your Quarterly (on the table by the Portals of Prayer) and your brown bag lunch so you can be enlightened and enjoy fellowship with your sisters in Christ.