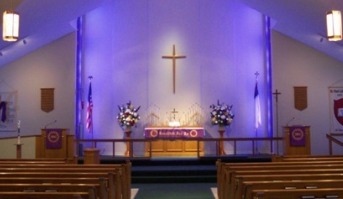 Welcome! to St. Paul Lutheran Church. We are a member of The Lutheran Church - Missouri Synod, which was formed in 1847.
Our pastor is Rev. Walter Keller, a 1981 graduate of Concordia Seminary, St. Louis, MO.
St. Paul Lutheran is located at 42681 Hayes Road, (just south of 19 Mile Road), Sterling Heights, MI 48313.
You may contact us by email at [email protected] or by phone at (586) 247-4645.
Please join us for worship and let us know how we can be of further assistance to you!
Click for a map to St. Paul Lutheran.
Worship Times

Traditional Sunday Morning Worship Services: 8:00 am and 10:30 am
Holy Communion is celebrated in both services on the 2nd & 4th Sunday of each month.
Nursery/Cry Room available for parents and children during worship services if needed.
Bible Class & Sunday School
(September through May)
Sunday Morning: Sunday School & Bible Class: 9:15am
Wednesday Morning Bible Class: 10:00am
(For Holiday and special service times please go to the Activities page.)
If you would like a brief history of our church please click here: History Of St. Paul Lutheran Church